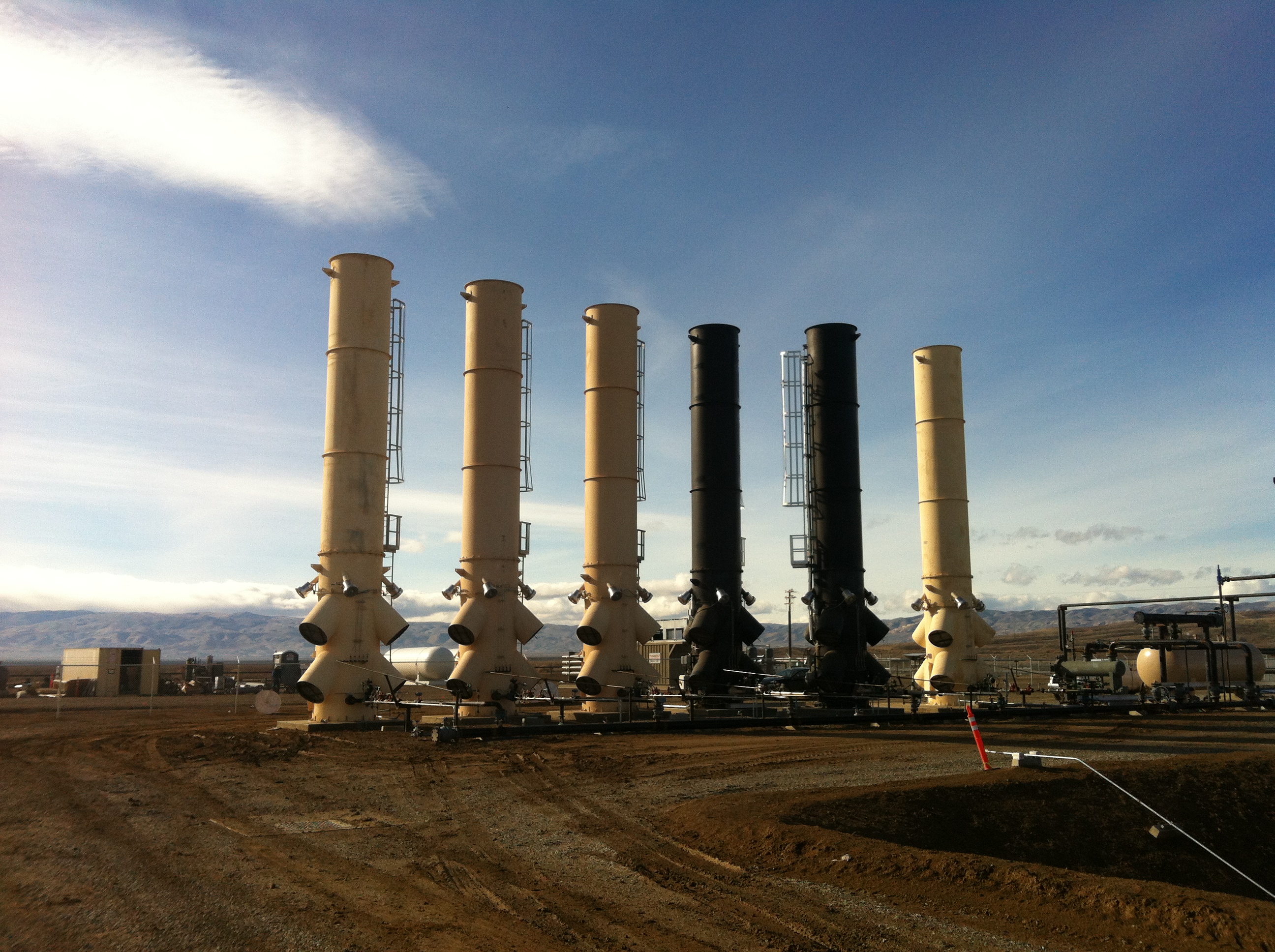 Coyote North International Incinerators achieve 99%+ destruction efficiency because they combust hydrocarbon gases at high temperature. they provide the combustion process with enough air and retention time to complete the combustion of the waste gas.  This means no visible flame, smoke, or odors (other than SO2, if H2S is a component at the waste gas inlet).
Coyote North International Incinerators are designed to have a minimum of 0.5 second retention time within the incinerator. This allows the waste gases to be exposed to the necessary high temperature and combustion air within the incinerator. Insufficient retention time causes partially combusted hydrocarbons to reform into soot, smoke, and other toxic or noxious emissions in the exhaust stream after leaving the stack top.
99.9%+ efficiency of waste gas combustion
Optional flame arrested air intakes
Low power requirements
Multiple waste streams can be put into one incinerator
Refractory lined
Pilot flame monitoring
Natural draft, no blowers required
Elevated temperatures (up to 1100 degrees Celsius) are necessary to combust long chain hydrocarbons and cyclic polyaromatic hydrocarbons. These hydrocarbons require higher temperatures to break their chemical bonds.
Our Incinerators use natural draft to operate at 100% vs. stoichiometric, ensuring that variations in gas composition do not cause oxygen starvation or combustion zone overheating.
All units have the option of being mounted on portable trailers for multiuse, additionally units can be modeled for taller heights to meet SO2 dispersion requirements.
Unit

Unit

OD 

Methane Equivalent Flow Rate

Heat Capacity

Model#

Feet

Metres

scf per day

nm3 per day

e3m3 per day

MMBtu/hr

MW

CNTOX2

2

0.61

100,000

2,833

2.833

4.2

1.23

CNTOX3

3

0.91

250,000

7,082

7.082

10.5

3.08

CNTOX4

4

1.22

500,000

14,164

14.164

21

6.15

CNTOX6

6

1.83

1,000,000

28,329

28.329

42.1

12.34

CNTOX8

8 (40′ tall)

2.44

2,500,000

70,822

70.822

105.4

30.89

CNTOX8.5

8′ (50′ tall)

2.44

3,000,000

84,986

84.986

120

35.17

CNTOX12

12′ (40′ tall)

3.66

4,500,000

127,479

127.479

189.8

55.62

CNTOX12.5

12′ (50′ tall)

3.66

5,000,000

141,643

141.643

200

58.61